Hotels In UAE
Unveiling the Splendor of Hotels in the UAE: Luxury, Hospitality, and Unforgettable Experiences
The United Arab Emirates (UAE) is renowned for its opulent hotels, where luxury, comfort and exceptional hospitality combine to create an unforgettable experience for guests. From iconic landmarks in bustling cities to serene havens nestled in the natural landscape, UAE offers a diverse range of hotels that cater to every taste and enhance the concept of luxury accommodation. Let's delve into the world of hotels in UAE and explore the splendor they have to offer.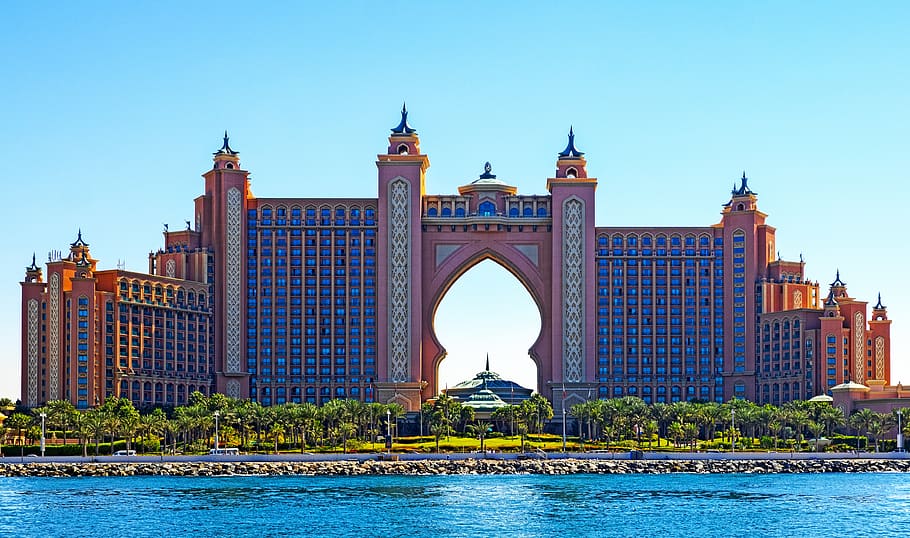 1. Iconic Places in Urban Centres:
Dubai and Abu Dhabi boast skylines lined with architectural marvels, and their hotels reflect this grandeur. From the world-famous Burj Al Arab in Dubai, often referred to as "the only seven-star hotel", to the Emirates Palace in Abu Dhabi, these iconic landmarks redefine luxury. With lavish suites, personalized butler services, and unique amenities, these hotels offer a truly luxurious experience. Guests can enjoy fine dining at the award-winning restaurant, indulge in invigorating spa treatments and take in breathtaking views from their private terraces, ensuring an unforgettable stay.
2. Beach Resorts and Island Retreats:
The stunning coastline of the United Arab Emirates offers a host of beach resorts and private island retreats that are the epitome of luxury and tranquility. The Palm Jumeirah in Dubai is home to several world-class resorts, offering exclusive access to pristine beaches, private pools and luxurious spa facilities. Saadiyat Island in Abu Dhabi has excellent resorts with white sandy beaches and direct access to turquoise waters. These coastal paradise offer a seamless blend of relaxation, water sports and impeccable service, ensuring a truly refreshing experience.
3. Desert Retreat:
Escape the hustle and bustle of the city and immerse yourself in the mesmerizing beauty of the UAE deserts by choosing a desert retreat. These luxury resorts integrate seamlessly with the natural surroundings, allowing guests to experience Bedouin-inspired hospitality. From tented camps with luxurious amenities to private villas with panoramic desert views, these retreats provide an oasis of calm. Guests can go on exciting desert adventures like camel treks, traversing dunes and star gazing, while enjoying utmost comfort and hospitality.
4. Cultural Heritage and Boutique Gems:
For those seeking a more intimate and culturally in-depth experience, UAE boutique hotels offer a unique blend of heritage, art and personalized service. In areas such as Dubai's Al Fahidi Historic District or Sharjah's Heritage Area, traditional courtyard houses have been converted into boutique hotels, preserving the area's rich heritage. These boutique gems allow guests to immerse themselves in local culture, explore historic sites, and enjoy unique experiences tailored to their preferences.
5. Family Friendly Getaway:
The United Arab Emirates is an ideal destination for a family holiday, with hotels catering to the needs of all members of the family. Many resorts offer spacious family suites, dedicated kids' clubs and a wide range of activities to keep the kids entertained. Water parks, theme parks and interactive museums are often located near these family-friendly hotels, ensuring a memorable and enjoyable stay for families.
Here is a comprehensive list of hotels with private pools in the United Arab Emirates, categorized into high-end, mid-range, and budget-friendly options: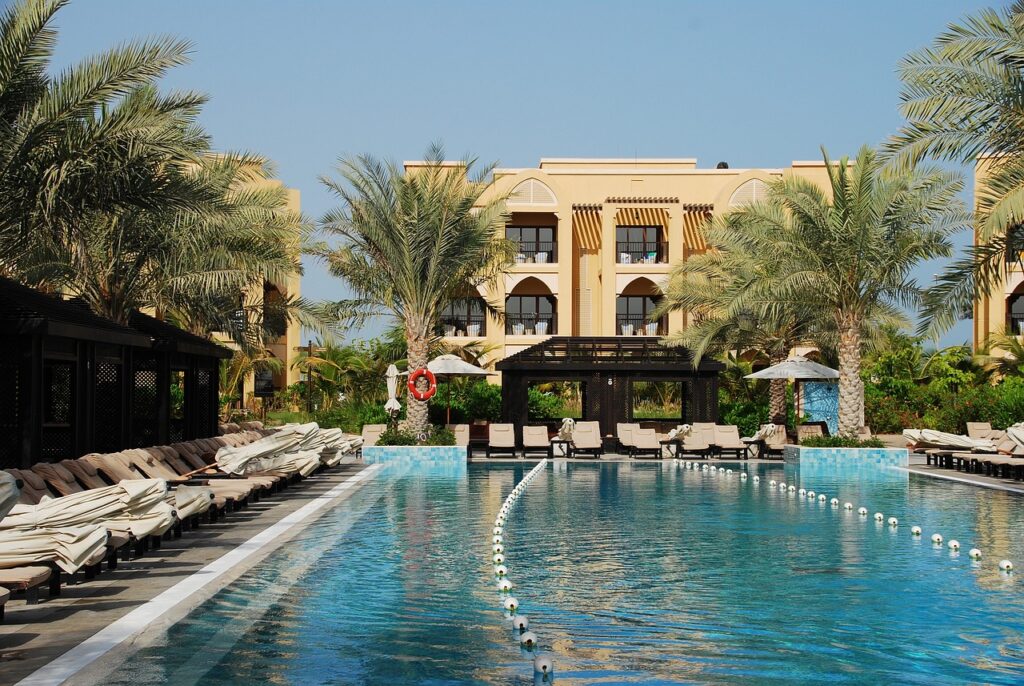 High-End Hotels with Private Pools:
Burj Al Arab – Dubai
Emirates Palace – Abu Dhabi
One&Only The Palm – Dubai
Jumeirah Al Qasr – Dubai
Jumeirah Zabeel Saray – Dubai
Waldorf Astoria Dubai Palm Jumeirah – Dubai
Anantara The Palm Dubai Resort – Dubai
Al Maha, a Luxury Collection Desert Resort & Spa – Dubai
Qasr Al Sarab Desert Resort by Anantara – Abu Dhabi
Desert Islands Resort & Spa by Anantara – Abu Dhabi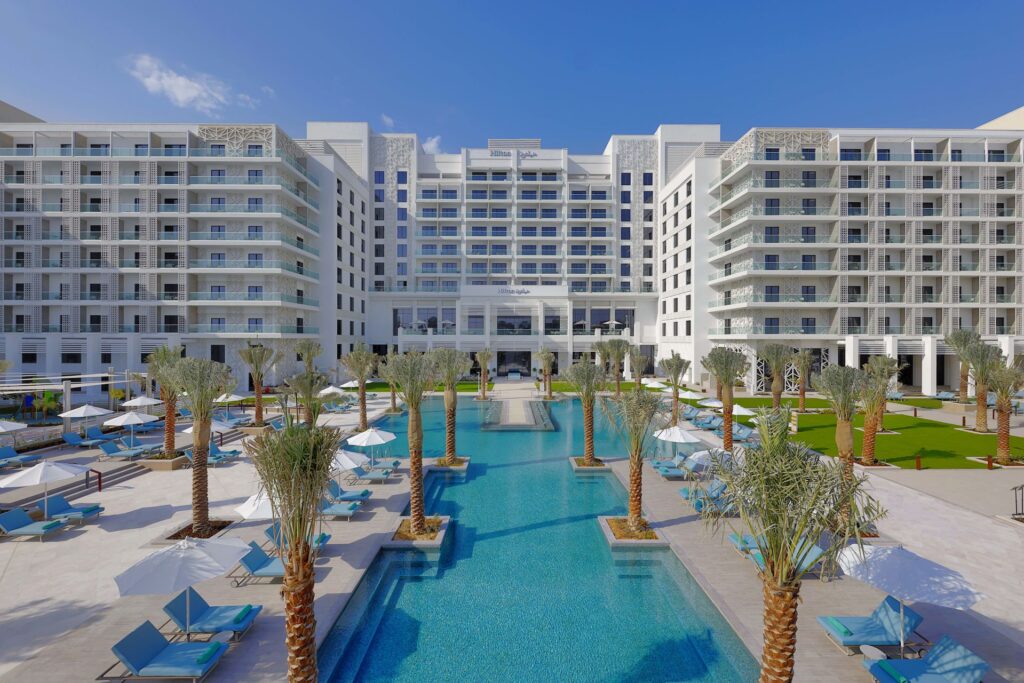 Mid-Range Hotels with Private Pools:
JA Palm Tree Court – Dubai
Bab Al Shams Desert Resort & Spa – Dubai
Rixos The Palm Dubai – Dubai
Jumeirah Dar Al Masyaf – Dubai
Hatta Damani Lodges Resort – Dubai
Desert Nights Camp – Ras Al Khaimah
Telal Resort – Al Ain
Tilal Liwa Hotel – Abu Dhabi
Arabian Courtyard Hotel & Spa – Dubai
Al Raha Beach Hotel – Abu Dhabi
Budget-Friendly Hotels with Private Pools:
Al Bada Hotel and Resort – Fujairah
Emirates Park Resort – Abu Dhabi
Royal Beach Hotel & Resort – Sharjah
Citymax Hotel Bur Dubai – Dubai
Zabeel House by Jumeirah – Dubai
Nour Arjaan by Rotana – Fujairah
Coral Beach Resort – Sharjah
Ewan Ajman Suites Hotel – Ajman
Saffron Boutique Hotel – Dubai
Hotel Novotel Fujairah – Fujairah
Conclusion:
Hotels in UAE redefine the meaning of luxury, hospitality and exceptional experiences. Whether you prefer iconic destinations in vibrant cities, beach resorts, desert retreats, culturally steeped boutique hotels, or family-friendly escapes, the UAE offers a range of options to suit every taste and preference. Immerse yourself in the grandeur of these hotels and embark on a journey of indulgence, relaxation and unforgettable memories in UAE.
Also Read
15 Landmarks To Visit Before You Turn 65
Rainwater Harvesting: An Eco-Friendly Approach to Water Conservation
Tabora: Exploring the Heart of Tanzania
25 South Indian Food Near Me In USA: Where Tradition Meets Taste
Ear Troubles? Learn How to Get Water Out of Your Ear
Follow us on Youtube
Follow us on Facebook
Follow us on Twitter
Follow us on Instagram
FAQ
What types of hotels are available in the UAE?
The UAE offers a diverse range of hotels to suit different preferences and budgets. You can find luxury hotels known for their opulence and world-class amenities, mid-range hotels that offer comfortable accommodations and modern facilities, as well as budget-friendly hotels that provide affordable options for travelers.
How do I choose the right hotel in the UAE?
When choosing a hotel in the UAE, consider factors such as your budget, preferred location, desired amenities, and the purpose of your visit. Research online reviews, compare prices, and check the hotel's website for detailed information about their services and facilities to ensure it aligns with your needs and preferences.
What amenities can I expect in UAE hotels?
UAE hotels offer a wide range of amenities to enhance guests' comfort and convenience. Common amenities include free Wi-Fi, air conditioning, flat-screen TVs, minibars, in-room safes, fitness centers, swimming pools, restaurants, and 24-hour room service. Luxury hotels may offer additional features such as spas, multiple dining options, private pools, and concierge services.
Is it safe to stay in hotels in the UAE?
Hotels in the UAE prioritize guest safety and maintain high standards of security. They have measures in place, such as CCTV surveillance, trained staff, and secure access systems, to ensure the safety of guests and their belongings. It's always recommended to follow basic safety precautions and use the hotel's provided safety features, such as in-room safes, to store valuables.
Can I book a hotel online in the UAE?
Yes, most hotels in the UAE provide online booking options through their official websites or through reputable travel websites. Online booking platforms allow you to compare prices, read guest reviews, and secure your reservation conveniently. It's advisable to book in advance, especially during peak seasons or major events, to ensure availability and secure the best rates.
What is the check-in and check-out time in UAE hotels?
The standard check-in time in UAE hotels is usually in the afternoon, around 2:00 PM or 3:00 PM. The check-out time is typically in the morning, around 11:00 AM or 12:00 PM. However, it's always best to check with the specific hotel as policies may vary.
Are there any additional charges or taxes to consider when booking a hotel in the UAE?
When booking a hotel in the UAE, it's essential to consider additional charges and taxes. These can include value-added tax (VAT), municipality fees, tourism fees, and service charges. These charges are typically added to the room rate and may vary depending on the hotel category and location. It's recommended to check the final price breakdown before confirming your reservation.
Can I cancel or modify my hotel reservation in the UAE?
Cancellation and modification policies vary among hotels. It's important to review the terms and conditions of your booking, especially regarding cancellation deadlines, penalties, and refund policies. Some hotels offer flexible cancellation options, while others may have stricter policies, particularly during peak periods.
Contents