Is India Under Dictatorship?
Female wrestlers in India have joined the #MeToo movement, shedding light on the prevalent issue of sexual harassment in the sport. Sakshi Malik, India's first female Olympic medal-winning wrestler in 2016, stood tearfully by the Ganges River on Tuesday, preparing to immerse her medal as part of the ongoing fight against sexual harassment within Indian wrestling. Malik, along with a group of Indian wrestlers, is demanding the arrest of Brij Bhushan Singh, the head of the Wrestling Federation of India (WFI) and an influential Member of Parliament, whom they accuse of pervasive sexual misconduct over the years. Singh has denied the allegations.
Also Read 15 Landmarks To Visit Before You Turn 65
In an official statement, the wrestlers expressed their belief that their medals and the sacred Ganges River were more deserving custodians than the system that shields the alleged offender. The dramatic scenes unfolded in the holy city of Haridwar until influential farm union leader Naresh Tikait convinced the wrestlers to postpone the medal immersion until the following week, acknowledging their contributions to India's international sports reputation.

The controversy escalated further as United World Wrestling (UWW) officially condemned the mistreatment of Indian wrestlers and called for a thorough and impartial investigation into the allegations. UWW also reminded the Indian Olympic Association to hold fresh elections for a new leader of WFI within 45 days, as promised in April, warning that failing to do so may result in the suspension of the federation and the athletes being forced to compete under a neutral flag.
The protests by the wrestlers have sparked an unprecedented reckoning with the sexual harassment faced by female Indian athletes. Wrestling has been India's most successful sport in the Olympics, with wrestlers winning six out of the 21 medals earned by Indian athletes in the past.

Female wrestlers, often from economically disadvantaged backgrounds in the northern farming state of Haryana, see professional sports as a means of financial mobility and new opportunities. Many have been hesitant to speak out against the pervasive issue of sexual harassment. However, they have now united in demanding justice and recognition for their voices.
Also Read 15 Landmarks To Visit Before You Turn 65
Follow us on Youtube
Follow us on Facebook
Follow us on Twitter
Follow us on Instagram

The protests began in January when wrestlers gathered outside WFI headquarters in New Delhi after Vinesh Phogat, a two-time world champion, revealed that she had received phone calls from young female wrestlers alleging sexual harassment by Singh. Phogat claimed that at least 10 women had come forward with similar allegations, and previous cases of harassment reported to the authorities had either been ignored or resulted in athletes being prevented from competing again.

Malik stated that Singh had not only been accused of sexual harassment but had also mistreated women for years through sexist behavior, including body-shaming and making derogatory comments about their athletic wear.

Since then, wrestling champions like Malik, Phogat, and Bajrang Punia have staged sit-ins in Delhi, demanding action against Singh. They have also boycotted championships and tournaments and threatened to return their medals to the government.
On Sunday, Delhi police detained Malik, Punia, and Phogat as they marched to India's new parliament building during its inauguration by Prime Minister Narendra Modi. The police were seen in viral footage pushing, shoving, and manhandling the athletes. The police have since filed cases against the wrestlers for rioting and public disorder, leading to criticism of their actions.

In their statement on Tuesday, the wrestlers condemned the police action and questioned whether female athletes were being treated as criminals for seeking justice against sexual harassment.

Brij Bhushan Singh, who has led WFI for over a decade, vehemently denies the allegations and has challenged the wrestlers to present evidence to the court. He was suspended from his position by the Indian Sports Ministry in January, and a panel was established to oversee WFI's activities. The ministry stated in

April that WFI lacked an internal complaints committee required by law but did not address the allegations against Singh, who has since resumed his role in wrestling tournaments.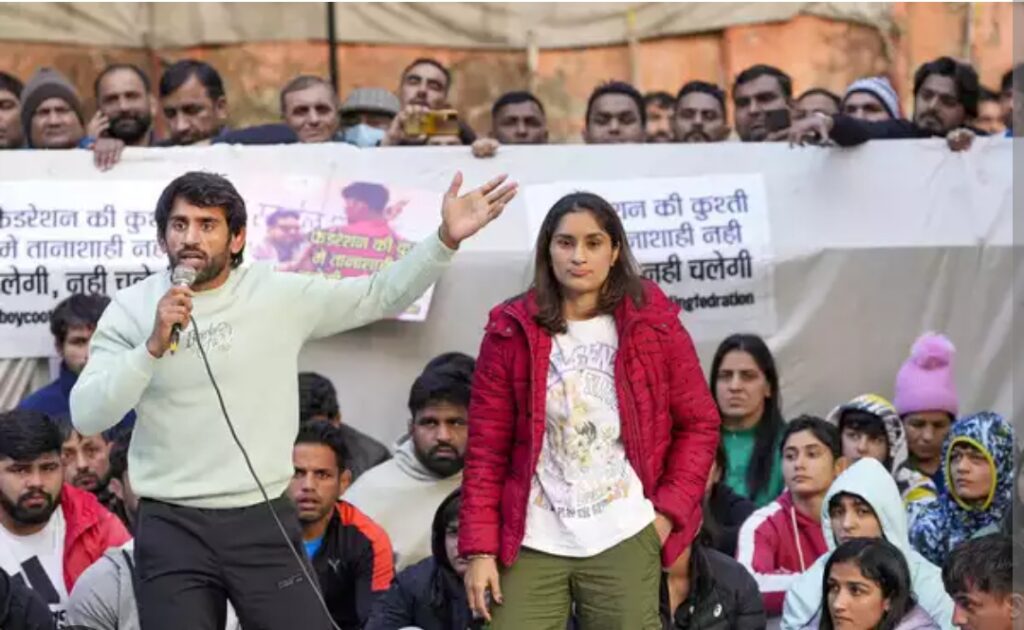 In May, the wrestlers petitioned the Indian Supreme Court, accusing the Delhi police of failing to register an official case against Singh despite several complaints of sexual misconduct. The police registered two cases against Singh a few days later, but he has been questioned and not yet charged.

The wrestlers' protest will continue until there is a change in WFI's leadership, ensuring that female wrestlers can compete without fear or hesitation in future championships. In addition to immersing their medals in the river, the wrestlers plan to begin an indefinite hunger strike in New Delhi.

Experts believe that the wrestlers' unified protest has brought sexual harassment in Indian sports into the spotlight and increased pressure on authorities to address the issue. A recent Right to Information Request revealed that 45 complaints of sexual misconduct had been filed against coaches and officials from the Sports Authority of India (SAI) between 2010 and 2020.

"This unprecedented protest by wrestlers has exposed every flaw and fracture in our sporting structures to the wider public," wrote Sharda Ugra, a renowned Indian sports journalist.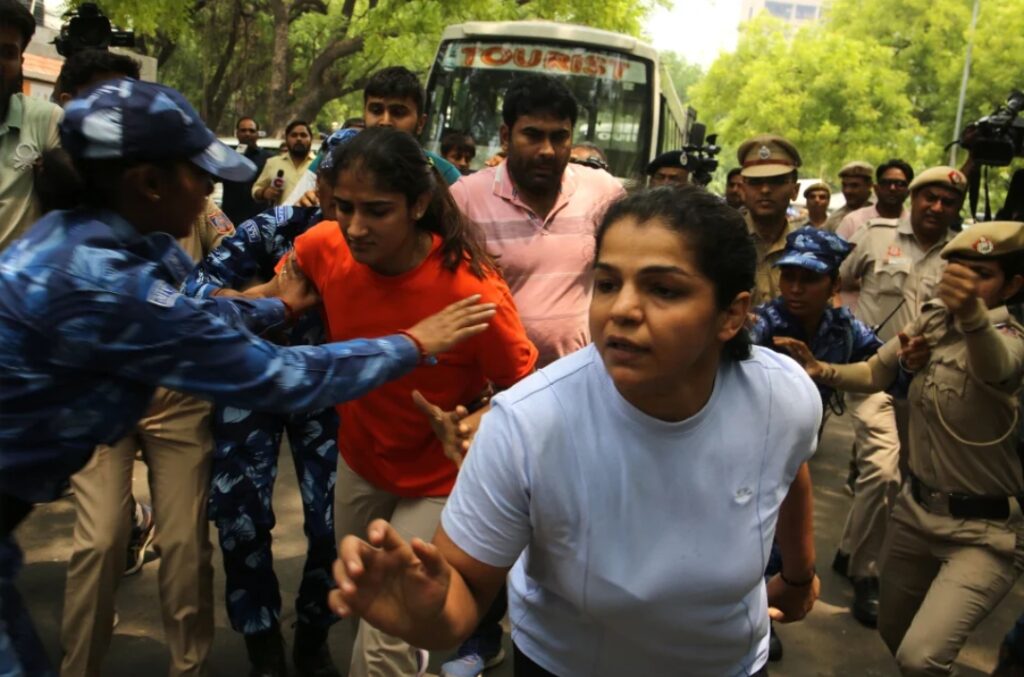 Indian Wrestlers On Hunger Strike
According to a report by IANS, the wrestlers who have been protesting, including Bajrang Punia, Vinesh Phogat, and Sakshi Malik, will travel to Haridwar on Tuesday evening to dispose of their medals in the Ganges River. After that, they plan to return to Delhi and begin a hunger strike at India Gate.

In a statement shared on Twitter, Sakshi Malik and the other wrestlers strongly criticized the actions of the Delhi Police. They expressed their intention to discard their medals in the holy river Ganges, considering them to be their lives and souls. Following this symbolic act, they will commence a hunger strike until death at India Gate.

The wrestlers also criticized Indian Prime Minister Narendra Modi, stating that despite referring to them as daughters, he did not show any concern for their plight. They highlighted that he invited Brij Bhushan Singh, against whom the allegations of sexual harassment have been made, to the inauguration of the new Parliament building and even posed for photographs with him.

Prominent wrestlers such as Vinesh, Sakshi, and Bajrang are protesting against the chief of the Wrestling Federation of India (WFI), Brij Bhushan Sharan Singh, regarding the sexual harassment of female athletes, including a minor. The protest, which began on April 23 at Jantar Mantar, took a distressing turn on the day of the new Parliament building's inauguration when the Delhi Police forcefully intervened during their march.
Table of Contents