Jordan Prince Hussein Marries Rajwa Al Seif
In a lavish ceremony, the heir to Jordan's throne wedded into a prominent Saudi Arabian business family. The glitzy event was graced by international royals and heads of state, including the Prince and Princess of Wales and US first lady Jill Biden.

Crown Prince Hussein bin Abdullah II, 28, and his fiancée Rajwa Alseif, a 29-year-old Saudi architect and Syracuse University graduate, exchanged vows at Zahran Palace in Amman, Jordan's capital. Alseif will hold the title of Her Royal Highness the Crown Princess of Jordan and, upon the Crown Prince's ascension, will be known as Queen Rajwa.
Through her mother, who comes from the prominent Al-Sudairi family, the bride has a connection to Saudi Arabia's crown prince and de facto ruler, Mohammed bin Salman (MBS).

King Salman of Saudi Arabia is part of the "Sudairi Seven," a term used to describe the seven full brothers born to King Abdulaziz and Hussa bint Ahmed Al-Sudair, as reported by Saudi media.

The event commenced at 9:00 AM (ET) as Jordan's king and queen welcomed guests at Zahran Palace. Jordan's armed forces provided musical accompaniment as attendees arrived to offer greetings and congratulations to the royal family.
Also Read 15 Landmarks To Visit Before You Turn 65
Subsequently, the occasion transitioned to a gazebo nestled within the palace garden, where the couple, accompanied by their fathers, participated in the signing of the marriage contract in an Islamic ceremony known as "Katb Al-Kitab" and exchanged rings.

Beyond the palace, exuberant crowds filled with joy and enthusiasm cheered and waved flags, eagerly anticipating the arrival of the newlyweds' motorcade as it traversed a six-mile route across the capital. Streets had been adorned for several days with images of the couple and the Jordanian flag, adding to the festive atmosphere.
Follow us on Youtube
Follow us on Facebook
Follow us on Twitter
Follow us on Instagram
Jordan and Saudi Arabia rank as two of Washington's most robust Middle East partners. Jordan, in particular, holds the responsibility of safeguarding Muslim and Christian sacred sites in Jerusalem while maintaining relations with both Palestinians and Israelis. Meanwhile, Riyadh, a significant global oil player, has experienced strained ties with the US due to differences concerning the kingdom's oil policies and its association with Russia.

However, in recent times, the strained relationship between Saudi Arabia and Jordan has shown signs of improvement. Following years of tension, there has been a thawing of ties. During a visit to Jordan last year, MBS expressed his eagerness, as reported by Saudi media, to elevate the relationship with Jordan to a new phase.
As esteemed guests such as Prince William and Kate Middleton settled into their seats, Crown Prince Hussein took his place at the front of the gazebo. Accompanied by her groom's younger siblings, Princess Rajwa made her entrance, gracefully linked arm-in-arm with her new brother-in-law, Prince Hashem, aged 18.
In a heartwarming moment, Princess Iman and Princess Salma followed behind Rajwa, delicately arranging the flowing train of her exquisite Elie Saab Haute Couture gown and securing her long veil to achieve the perfect positioning. Given that Iman, at 26 years old, recently celebrated her own royal wedding in March, she likely had some experience with this task.

Having made their union official, the time had come to welcome and interact with the guests! The bride and groom exchanged brief conversations with the congregation, which included their families, esteemed international royals, and heads of state, such as Prince William and Princess Kate.

Crown Prince Hussein and Princess Rajwa exchanged smiles and affectionate embraces with the Prince and Princess of Wales, expressing their warmth through hugs and cheek kisses.

The guest list included Prince William and Princess Kate, who were among the international royals attending the celebration. They were joined by Crown Prince Frederik and Crown Princess Mary of Denmark, Crown Princess Victoria and Prince Daniel of Sweden, Princess Hisako of Japan, Princess Tsuguko, Crown Prince Haakon of Norway, King Philippe and Princess Elisabeth of Belgium, King Willem-Alexander and Queen Máxima of the Netherlands, and many others.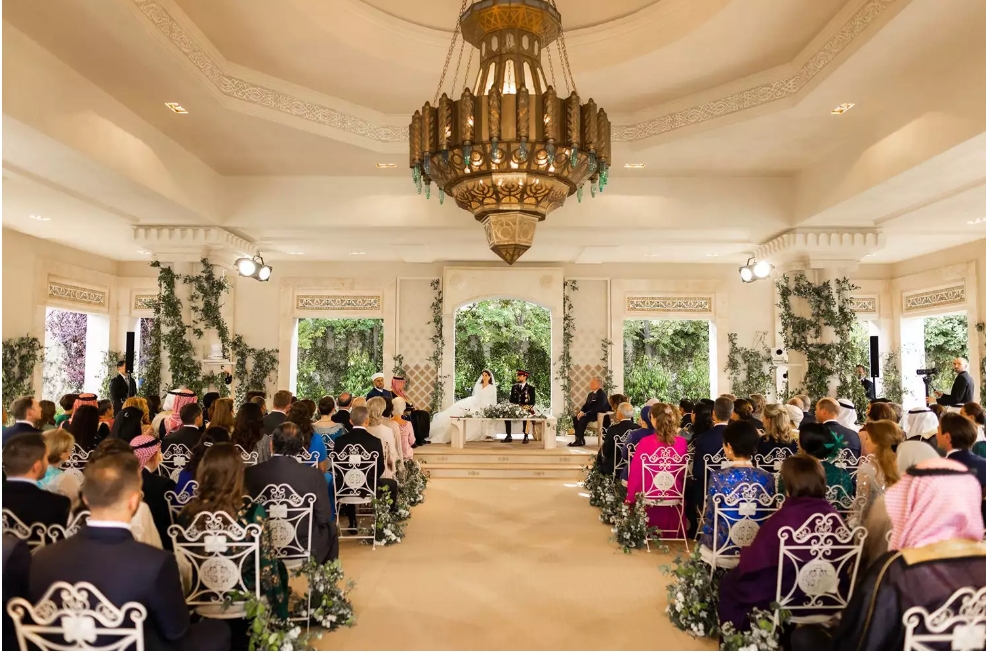 Later in the evening, at the banquet held at Al Husseiniya Palace, Princess Rajwa made a stunning entrance in her second bridal gown. She donned a cap-sleeve ballgown with a sweetheart neckline adorned with swirling embellishments. While she retained her delicate diamond tiara and matching earrings worn earlier in the day, she elegantly styled her hair into a chignon and added dramatic opera gloves to complete her look.

In the evening, the Princess of Wales, along with other royal guests, adorned herself with a tiara, complementing her attire—a dazzling pink gown. Her chosen headpiece was none other than Queen Mary's Lover's Knot tiara, which holds a special place in her collection.
Table of Contents