Navalben Chaudhary's Inspiring Journey: From Retirement to Running a Rs 1 Crore Dairy Business
In the realm of entrepreneurship, experience, faith, and hard work often triumph over formal education, as exemplified by the remarkable story of 62-year-old Navalben Chaudhary. While many individuals might consider this age a time for relaxation, Navalben chose to embark on a new venture that would eventually establish her as a successful businesswoman.

Hailing from the small village of Nagla in Gujarat, India, Navalben decided to start her dairy business at the age of 62. In a society where retirement typically occurs by the age of 50, she defied norms, not only sustaining her business but also providing employment opportunities for others.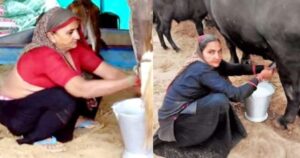 Navalben's journey wasn't without challenges. Skepticism surrounded her decision to start a business at an age when most would hesitate. Undeterred, she persevered, and today, her dairy business is valued at over Rs 1 crore.

With over 45 cows and 80 buffaloes, Navalben caters to the milk needs of her community. In 2020 and 2021 alone, her sales surpassed Rs 1 crore, showcasing the remarkable success of her venture. She has not only created a thriving business but has also received the prestigious 'animal husbandry' award in Banaskantha district three times.

Navalben's story teaches us that age is no barrier to entrepreneurship; instead, it's fueled by determination and hard work. Her tale of resilience and success serves as an inspiration, proving that business acumen knows no age limits.

In her FAQ, Navalben reveals that her dairy is named "Banas Diary," and at the age of 64, she continues to lead and thrive in her entrepreneurial journey. This success story encourages us to recognize the potential for achievement at any stage in life.

If you found this narrative inspiring, share it with your friends to spread the remarkable story of Navalben Chaudhary. For more stories on business and success, explore our 'Business' page.


FAQ: Navalben Chaudhary Story
What is the name of Navalben Chaudhary's dairy?
The name of Navalben Chaudhary's dairy is Banas Diary.
How old is Navalben Chaudhary?
Navalben Chaudhary is currently 64 years old.
Follow us on Youtube
Follow us on Facebook
Follow us on Twitter
Follow us on Instagram
Table of Contents