Shahrukh Khan's Chats With Sameer Wankhede Leaked
WhatsApp conversations between Bollywood actor Shahrukh Khan and former NCB Mumbai zonal director Sameer Wankhede, which were dated 2021, have emerged online. The alleged pleas made by Khan to Wankhede after his son's arrest in a drug-related case were obtained by an Indian news agency. On Friday, screenshots of the chat were presented in court as part of Wankhede's defense against his petition to dismiss the CBI FIR in a purported bribery case.
Also Read 15 Landmarks To Visit Before You Turn 65
Follow us on Youtube
Follow us on Facebook
Follow us on Twitter
Follow us on Instagram
On October 3, 2021, the day when Aryan Khan was detained in the drug case, Shahrukh Khan, the renowned Bollywood actor, initiated a conversation with Wankhede, which went unanswered. In the message, Khan expressed, "Sameer sahib, may I have a minute of your time, please? Regards, Shah Rukh Khan. I acknowledge that this may not be the appropriate or correct approach officially, but as a father, I kindly request the opportunity to speak with you. Please. With love, SRK."

Following a reported phone conversation between the two on the same day, Khan expressed, "I cannot express enough gratitude for the valuable thoughts and personal insights you shared with me regarding my own situation. I am committed to ensuring that my son grows up to become someone we can both be proud of. I promise you that this incident will serve as a turning point in his life, but in a positive manner. Our country needs sincere and diligent young individuals to lead it into the future. We have played our roles, and now it is our responsibility to shape the next generation for what lies ahead."
"Once again, I extend my heartfelt appreciation for your kindness and support. With love, SRK."
Furthermore, Wankhede assured Khan that his son would be treated kindly by the officials. In response, the actor stated, "I am relying on your words. I hope you believe that my son has learned the lesson you deemed necessary, and from now on, he will strive to build a life as a righteous and hardworking young man, working towards a promising future. Thank you for your kindness and care. With love, SRK." In another message, Wankhede informed Khan that Aryan had been a well-behaved individual for some time. He wrote, "I hope that now, with the appropriate guidance and counseling from me, he will truly reform. The difficult days will soon be behind us."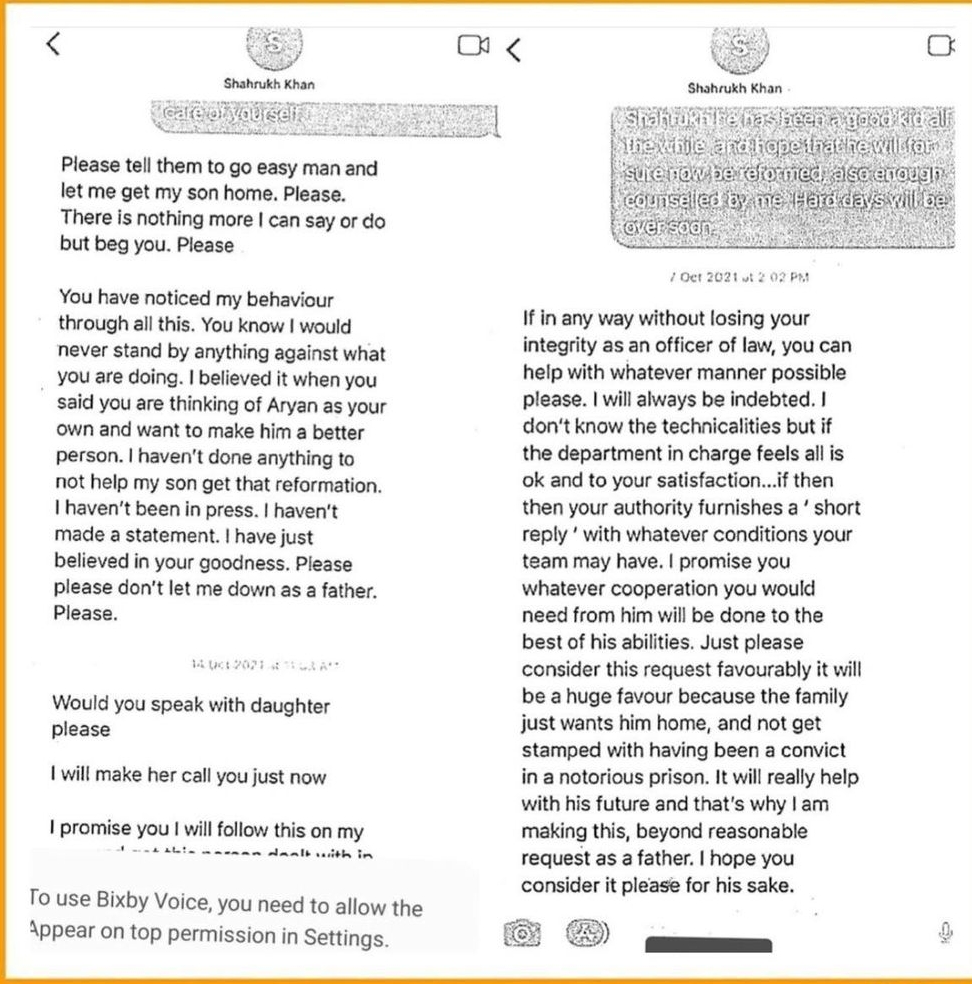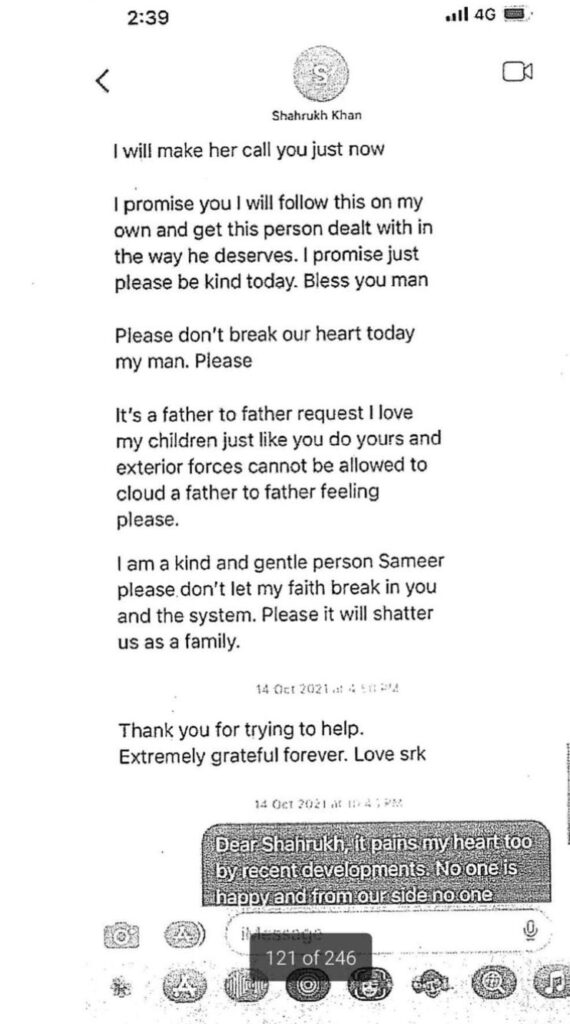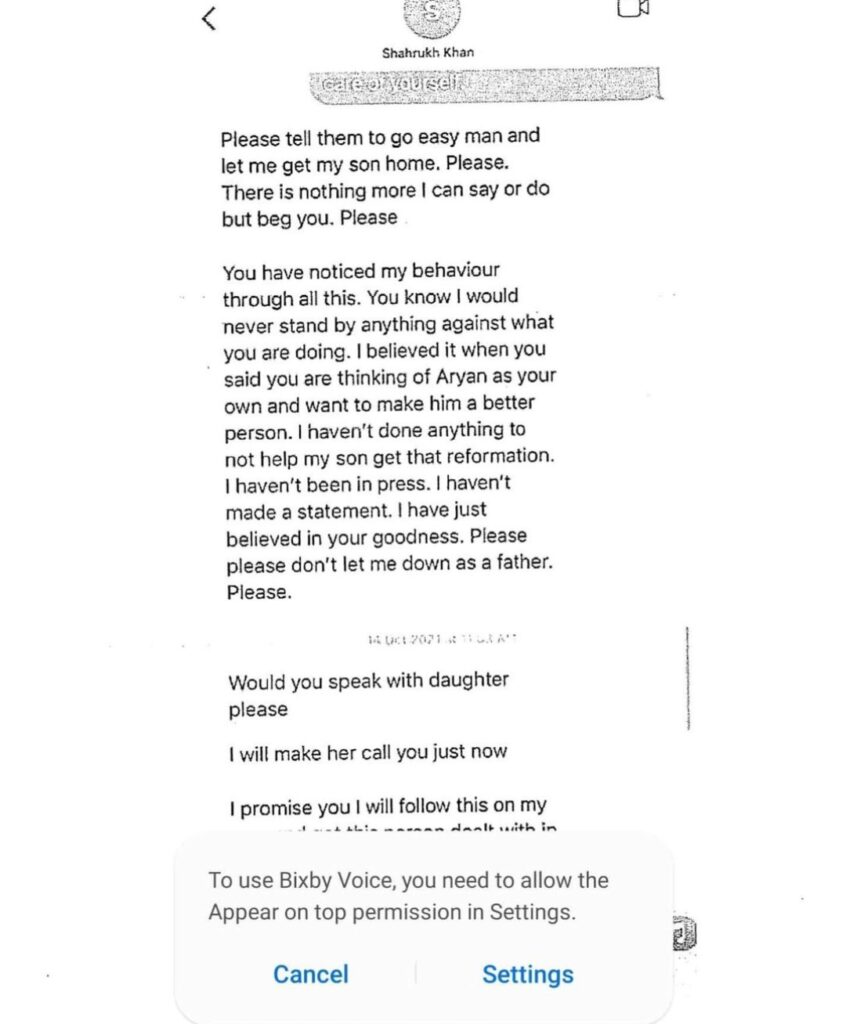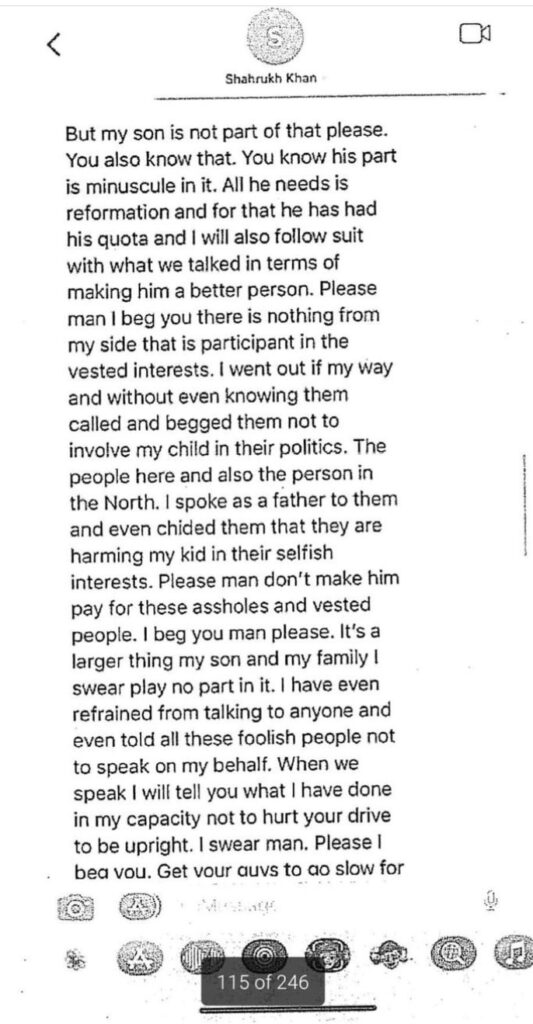 It is worth noting that Aryan Khan was apprehended during a cruise party on October 3, 2021 and remained in a Mumbai prison for a few weeks before being granted bail later that same month. He was eventually cleared of the charges last year when the special investigation team failed to discover any evidence of his involvement in any illicit activities. However, the team did uncover irregularities in the actions of Wankhede and his team during the drug-related raids on the cruise, including violations of the Central Civil Services Rules. Additionally, the CBI asserted that the NCB team from Mumbai allegedly attempted to extort INR 25 crore from Khan to prevent his son from being implicated in the case. Wankhede has consistently refuted these accusations.
Recently, a close friend of Shah Rukh Khan raised doubts regarding the authenticity of the leaked WhatsApp conversations between Khan and Sameer Wankhede, an NCB official who was involved in the drug-related case concerning Aryan Khan. These alleged WhatsApp chats have been circulating on social media since yesterday and have garnered significant attention. Earlier, we shared the verified chat between Khan and his Delhi Boss, where they discussed various topics, including drugs, girls, and sexual enhancement pills. Subsequently, later in the evening, a few photos surfaced online, claiming to be the WhatsApp exchange between SRK and Wankhede, creating a buzz on the internet.
According to the purported leaked chat, Shah Rukh Khan was depicted pleading and beseeching the official, inquiring about the well-being of his son Aryan Khan, who was incarcerated following the drug bust. However, a recent revelation by a close friend of SRK contradicts this narrative. Continue reading to discover further details.

During a recent interview, an undisclosed close friend of Shah Rukh Khan expressed doubt about the legitimacy of the leaked conversations, stating that SRK does not speak in such a manner. The friend also disclosed that despite experiencing restless nights, SRK did not seek the assistance of any government official to secure his son's release.
According to Shah Rukh Khan's friend, the possibility of the mentioned conversations occurring is highly unlikely. The friend stated that SRK never uses WhatsApp, and if the chats were genuine, it would imply that he intentionally created a chat box for Mr. Wankhede, which would be a foolish move to expose himself in the public domain. The language used, the pauses, and the portrayal of the father pleading for his son's well-being all seem highly improbable to be authentic, as SRK does not communicate in such a manner. Throughout his son's incarceration, SRK refrained from reaching out to anyone for assistance in securing Aryan's release. He strongly believed in allowing the legal process to unfold. Despite countless sleepless nights, SRK patiently awaited his son's freedom without appealing to any government official. He had unwavering faith in Aryan's innocence and chose to exercise patience.
Also Read 15 Landmarks To Visit Before You Turn 65
Also Read
15 Landmarks To Visit Before You Turn 65
Rainwater Harvesting: An Eco-Friendly Approach to Water Conservation
Tabora: Exploring the Heart of Tanzania
25 South Indian Food Near Me In USA: Where Tradition Meets Taste
Ear Troubles? Learn How to Get Water Out of Your Ear
Also Read
15 Landmarks To Visit Before You Turn 65
Rainwater Harvesting: An Eco-Friendly Approach to Water Conservation
Tabora: Exploring the Heart of Tanzania
25 South Indian Food Near Me In USA: Where Tradition Meets Taste
Ear Troubles? Learn How to Get Water Out of Your Ear
Table of Contents